scam
Originally seen on: Bleepingcomputer by Lawrence Abrams, Febraury 13th, 2019
We often hear about sextortion, business email compromise (BEC), and inheritance scams, but the often overlooked "Romance Scams" could be the most insidious of them all. Not only do victims lose money, but  the emotional entanglement ultimately leads to heartbreak.
Romance scams are months long, if not year long, campaigns where bad actors catfish, or pretend to be in love with, an unsuspecting victim in order to steal money from them. They do this by creating fake romantic relationships that the victims become invested in and are willing to help them with fake financial troubles.
In a report shared with BleepingComputer, the Agari Cyber Intelligence Division (ACID) outlines how a criminal gang out of Nigeria called "Scarlet Widow" targets those who are more likely to be lonely such as farmers, elderly, the disabled, and divorced.
This catfishing is done through the creation of fake personas that utilize stolen pictures of attractive people, fake names, personalities, and back stories where they were victimized in the past, but still believe that love is possible. They then create accounts on social media and dating sites, including ones that may attract those looking for love or are lonely such as Dating4Disabled.com, Farmers Dating Site, and DivorcedPeopleMeet.com.
For example, one of the fake personas discovered by Agari is a person named "U.S. Army Captain Michael" who is serving a tour of duty overseas, but is looking for love after he lost his wife.
"According to one of his fake dating site profiles, Captain Micheal is a 43-year-old Catholic man from Austin, Texas, who is currently serving a tour of duty overseas in Kabul, Afghanistan. His profile indicates that, like most of the other personas created by Scarlet Widow, he has lost a loved one in his past. In this case, Captain Micheal lost his wife, as his status describes him as "Widowed." Since the death of his wife, he has been "searching for so long" for the perfect woman and hopes the women has a trusting mind to fall in love."
The fake persona for Captain Michael was posted to dating sites such as MilitaryCupid.com and MarriedDateLink.com during a 6 month period in 2017.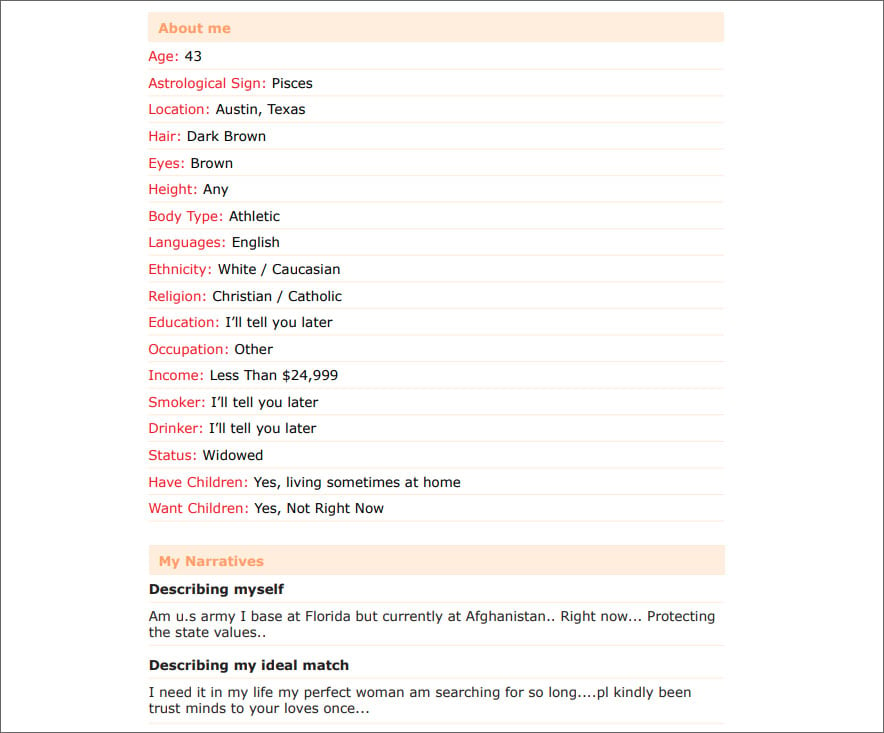 Agari states that each of the personas created by Scarlet Widow have different personalities and ways of communicating that reflect their backstory and who they are targeting. For example, the researchers state that Captain Michael's messages are usually short and to the point, while the gang's female personas have a "softer, inquisitive, and more verbose tone".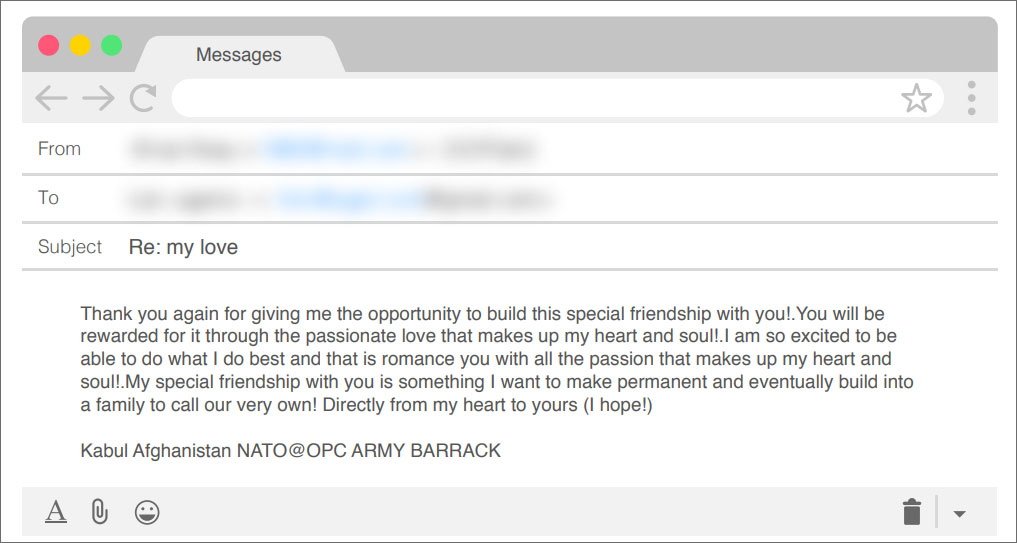 It's all about the money
Ultimately, though, these scams are not about making true romance, but about stealing as much money from the victims as they can.
Once a "relationship" is established, the scammers tell their victims that they are having financial difficulty and need financial assistance. This assistance is usually in the form of money for plane tickets, travel assistance, or accommodations.
If the victim is shown to be willing to send money, then the scammers continue with their relationship while continuing to siphon money over a long period of time.
Such is the case with Texan man who was going through a painful divorce and met one of the gang's fictitious characters named "Laura Cahill". Over a period of one year, the Scarlet Widow persona was able to scam the individual out of $50,000.
This person was so firmly hooked that when the scammers didn't reply to him in over a week, he sent a distraught email to her pleading for a reply.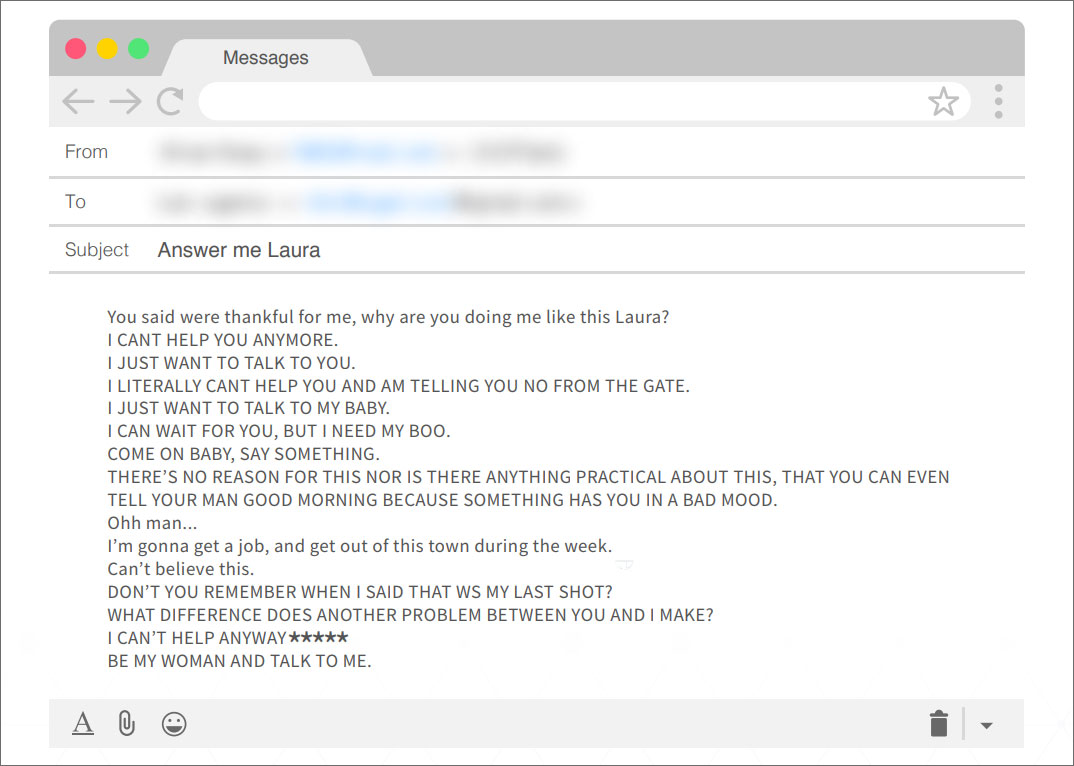 It ultimately got so bad, that this individual stole $10,000 from his father to send to the scammers. This "relationship" ultimately ended when the scammers stopped replying, but it shows how deeply entrenched victims can get in these fake "relationships".
While this sounds like something that few would fall for, according to Agari it is not that unusual.
"We are tracking a number of Nigerian scammer groups that continue to engage in romance scams and seek out new victims. In 2018, Agari documented a long-running, $500,000 swindle of a divorced American woman with children who refinanced her home to send money to the con artist. Eventually the creditors closed in, and she was forced to sell her house, pull her children out of school, and move the family in with a friend. She continued to believe he was real until Agari presented her with irrefutable evidence of the truth, enabling her to finally break free in 2018. "
Unfortunately, protecting yourself from scams like this can be difficult, especially if you are the type of person that they are targeting. That is because lonely people crave love and camaraderie in their life and may miss warning signs.